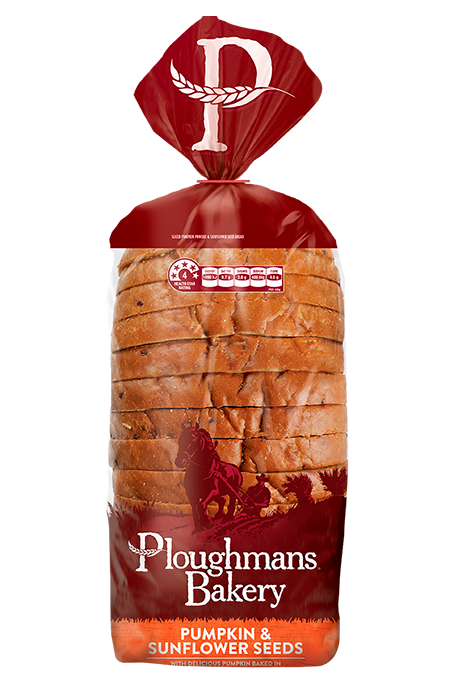 Pumpkin & Sunflower Seeds
Ploughmans is an uncomplicated bread, crafted in the traditions of a simpler time, when the world was a little slower and life was lived by the seasons. As the shadows grow longer and the season comes to an end, its time to reap natures bounty. The ploughman knows its about making the most of what's on hand and Pumpkin is no exception. This delicious loaf is crafted with pumpkin, giving it a slightly savoury flavour which is perfect alongside a hearty soup or in a proper Ploughmans lunch.
Nutritional Information
Servings Per Package: 9 (16 slices + 2 crusts)
Serving Size: 84g (2 slices)
 
AVERAGE SERVING
SIZE
% DAILY INTAKE*
PER SERVING
AVERAGE QUANTITY
PER 100 G
Energy
920 kJ (220 Cal)
11%
1090 kJ (260 Cal)
Protein
9.4 g
19%
11.2 g
Fat, total
4.7 g
7%
5.6 g
– saturated
0.6 g
2%
0.7 g
Carbohydrates
32.6 g
11%
38.9 g
– sugars
3.2 g
4%
3.8 g
Dietary Fibre
3.7 g
12%
4.5 g
Sodium
340 mg
15%
405 mg
*based on an average adult diet of 8700 kJ. **recommended dietary intake. Your daily intakes may be higher or lower depending on your energy needs.
Ingredients: Wheat Flour, Water, Sunflower Seeds (4%), Baker's Yeast, Pumpkin Powder (1%), Vinegar, Iodised Salt, Onion Powder, Canola Oil, Wheat Gluten, Fermented Wheat Flour, Emulsifiers (481, 472e), Soy Flour, Vegetable Gum (415).
Contains: Gluten cereals and Soy.